Questions About Registration?

Here are some of the most frequently asked questions from Tiny Troops Soccer parents about registration. Didn't find the information you need? Visit our Contact Us for more information, and please don't hesitate to reach out.
Tiny Troops Soccer is a year-round soccer program for ages 2-4 years old. We focus on teaching developmental soccer skills that help prepare little ones for recreational league soccer when they are older. Our program features trained coaches who utilize a lesson plan at every class. We teach a variety of soccer skills, listening activities, and other gross motor skills through fun games. Every child brings a ball, which allows them to get as many touches on the ball as possible during a class. We offer up to 6 sessions at a location throughout the year. Each session includes 6 classes. We schedule makeup dates in case of weather or coach emergencies. 
How many sessions and classes are there?
There are up to a total of 6 sessions offered throughout the year at each location. Each session includes 6 classes. 
Session Schedule
Session 1: January/February
Session 2: March/April
Session 3: May/June
Session 4: July/August
Session 5: September/October
Session 6 November/December
If applicable, make-up classes are offered during the final weeks of the session. 
All locations will run classes on Saturdays, with some locations also offering weekday sessions as well. Makeup sessions will be held on Sundays, and you will receive a list of the scheduled makeup dates after registering for a session. Please remember that makeup dates are only used if there is a coach emergency or the weather causes a cancellation.
Session costs depend on the age of your child. Each session includes 6 classes.
2-year-old $85

3/4-year-old $95
Each class provides high-quality activities and skill-building fun. All coaches follow a set lesson plan, ensuring that your little one's class is filled with fun and learning from beginning to end!
Yes, Tiny Troops Soccer offers $5 off for each sibling per subscription installment. Please message us on Facebook or send an email to info@tinytroopssoccer.com prior to registering to receive a code to apply at checkout during the registration process.
Session Registration begins on our website, www.tinytroopssoccer.com.
First, select your region. On the next page, available locations and sessions will then populate on the next page. Select the location and session you wish to register for. Then follow the instructions on the next few screens to complete registration.
*Registration begins on the 16th if the 15th falls on a Sunday.*
See the graphic below for Session Registration dates.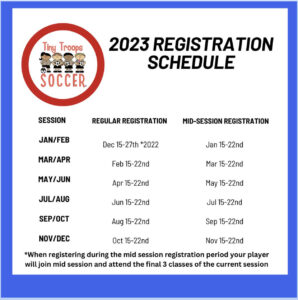 Waitlist families will be contacted via email if a spot opens up in the next session. Once the email is sent families will have 72 hours to respond and secure the available spot and complete payment for their player. If no response is received within 72 hours the spot will be offered to the next player on the waitlist and their player will be removed from the queue.
*During the registration period that the waitlisted player is initially waitlisted, TTS may reach out with other session times/day availability. If the waitlisted player chooses to take that offer they will be removed from the queue/waitlist.
No! Tiny Troops Soccer utilizes a subscription service. When you register your child for their first session, you agree to enter our subscription service.
When enrolling in a 2023 session you will pay the current installment and be automatically enrolled in autopay for the remaining installments. If you are enrolling part-way through the year you will pay the current month's installment and be automatically enrolled into auto-pay for the remaining installments.
Session fees are paid bi-monthly for each six-week session. 2023 installments are 12/15/2023, 02/15/2023, 04/15/2023, 06/15/2023, 08/15/2023, 10/15/2023.
If you are interested in registering your child past the registration cut-off for a session, but before the session begins, please send us a message on Facebook or an email to info@tinytroopssoccer.com. In your message, please include the location you are inquiring about, and the age of your player. Once we receive your message, we will check for open spots.
Mid-Session Registration is also available. Mid-Session Registration dates can be located in the graphic below. Players enrolled mid-session will attend the last 3 classes of the current session. They are then automatically enrolled in our subscription service, and payment will automatically be deducted for the next session.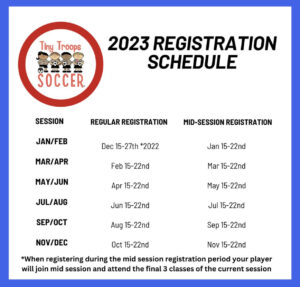 While we would love for all little ones to join us on Soccer Island, your child must be turning 2 during the session they are being enrolled in. 
Example: Your child is 22 months old, and you wish to enroll them in the March/April session. As long as your child's 2nd birthday occurs before the end of April, they are eligible to play in our 2-year-old Parent and Me sessions.
When registering your player for a session, they must turn the required age during the two months that the session runs.
Example: Your child is currently 2, and you would like to register them for the 3 and 4-year-old age group at your location for the July/August session. Your child's birthday must fall during July or August in order for them to be eligible for that age group session. 
For the Advanced Skills 4.5-5.5-year-old session, 4-year-olds must be 4 years + 6 months AND have participated in 3 prior months of TTS sessions to be eligible. 5-year-olds do not have to have any prior participation. This age group is only available at Kadena.